July 05, 2021
Preparing for the New School Year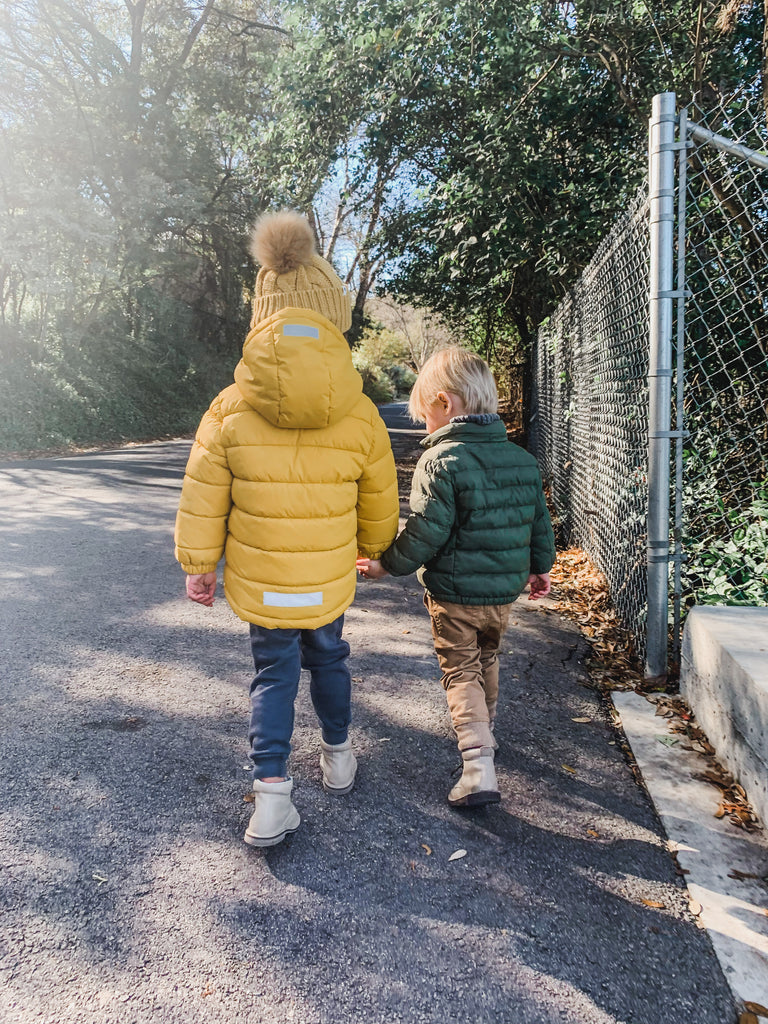 Whether your child is starting school for the very first time, or returning to school after a wonderful summer vacay, let's list out some of the things that can make this transition a little smoother. 
Good Reads 
During the summer, introduce some school-relatable books to keep the idea fresh in your child's mind — and a great way to do that is to put relatable books on the bookshelf! These books about school adventures and antics make for a great read. 
Time for School, Little Blue Truck  
Peachy and Keen #1: A School Tail
Fuzzy Takes Charge (Class Pets #2)
Books like these keep kids learning, and remind them that a time of friendship, laughter, and unexpected discoveries lies ahead in the fall. In doing so, they help get young learners eager to put on their boots, show an interest in and excitement about the classroom, and grow a passion for learning that lasts a lifetime.
Routine 
It's also a great idea to get a school routine in motion, before the time comes to actually return to school. If your child hasn't been attending Summer School, it's a great idea to establish a similar routine to that of the school year about a month before school begins. Firstly, just start talking to your children about school. It can also consist of getting them into bed early enough so that they can wake in time for school hours. Getting their little bodies well-rested and ready for school hours will keep everyone in much higher spirits. Having morning-snack and lunch at the same time each day also gets them in the rhythm. Kids do well with routines, so establishing a school routine early is really important for a smooth transition.
School gear 
Let your child participate in choosing their new school gear. This will get them super excited about the upcoming year and the thought of getting to put their new gadgets and outfits to good use. There are LOADS of fun supplies and accessories out there, but with that being said, keep in mind what they actually need for kindergarten / preschool. 
Your child's school will most likely provide you with a list of items that your kiddo will need, so be sure to refer to that. Most schools also have lists of what not to bring - this is a really helpful tool.  It helps the teachers tremendously when those lists are adhered to.
Here is a list of suggested items to get you started if your school doesn't have a list, or you're feeling uninspired.
School Bag - having something personalised is a nice little touch, and what kiddo doesn't love this! 
Lunch Bag - these Fluf lunch bags are great for school lunches, and weekend picnics. 
Lunch Box - there are so many bento boxes on the market, here's a suggestion of 1 style that we like due to its superior non-leak feature. Bento boxes are a great way to get lots of different food types into young kiddos. 
An assortment of practical shoes that are weather friendly.
Meet & Greet 
This can be really important for some children! Even if your child's been at the preschool for years, they'll most likely have a new teacher and a new classroom each year. Try to attend any preschool orientation days that the school is offering. 
Independent Young Learners 
Young children really love to assert themselves as a way to show their independence, and while we would never expect them to do everything on their own, it's really important to encourage this age-appropriate independence. Real-life jobs allow kids to learn to take care of themselves.  It also gives them a really great feeling of accomplishment. 
Have your child help clean up after themselves after meals, pick their outfit for the day, dress themselves. While the goal isn't to perfect a task, it will really encourage your child to work towards becoming more independent. 
Fun - the most important of all! 
All the research and preparedness in the world is great, but so is having fun as a family!  Keep up the special traditions that you and your family cherish. Reading together, having dinner together, taking a family walk together, visiting the park together — all of these things will keep you connected and having fun!