June 15, 2021
Introducing the Petit Vagabond Boot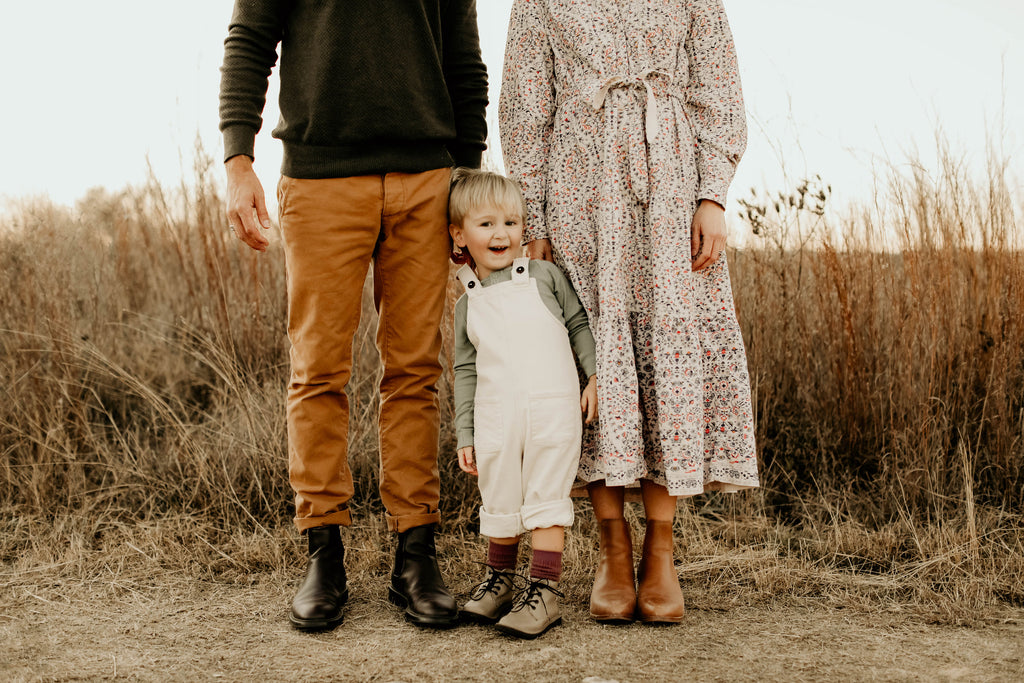 I'm Roxanne, the Founder of Dominic & Dempsey Co., and I thought I'd use this space to tell you how and why we got here. As a plant-based family, I've always tried to think of ways that I can do more for our planet and how I can give back. It's difficult to change the world, but with my individual steps, I felt like I could make a small difference. 
I'd bought my son leather shoes in the past, due to a lack of quality vegan products for children on the market, but there came a time where I wanted (and needed) to draw the line at introducing animal-based fashion into our home. After vigorously searching the web for cute, sustainable, and gentle footwear, I soon realised that there was a huge gap in the market. This is when I decided to create my own shoes for Dominic. We were living in New York City, and had recently spent some time between Paris and London in the Fall. This is where I gained inspiration from both men and women's footwear that I would notice while we were strolling the city streets. My style has always been very minimalist, and I seem to carry this across in the way I dress Dominic also. I envisioned a boot that was basic, classic and timeless; something that could be worn with any outfit, in any location, by any gender, and throughout the entire year. 
The first step I really needed to perfect was finding the right material. There are many polyurethane products around, but I wanted to steer clear of this product because firstly, not all PU is vegan; much contains leftover genuine leather. They also look quite fake and aren't as breathable or long-lasting as regular leather. They can smell of chemicals or plastic, and even though they use fewer resources to make, they are ultimately a plastic and don't decompose, making them less eco-friendly. 
I obtained many swatches from different companies who are creating leather-alternatives, such as the pineapple leather, mushroom leather and the cactus leather, to name a few, but our favourite by far was the cactus leather by Desserto. It was the closest resemblance to leather, which is what I ultimately wanted to achieve. Alongside appearing the most genuine, cactus leather also stood out for its low environmental impact, softness, and resilience. The cactus leather is 100% USDA certified organic, and the crops are grown without the use of herbicides or pesticides. The cactus plantation is cultivated solely with rainwater. Additionally, cactus naturally regenerates soil and it's a naturally occurring 'carbon sink', which together helps to preserve the local biodiversity, making it a much more sustainable alternative. All of these factors were incredibly important to me, so we decided to focus all of our collections around cactus leather. This isn't to say we won't use other leather-alternatives and materials in the future, but for now we are really happy with the results we are getting from the cactus. 
We played around with different features on the boots, from eyelet colours to laces to sole material and thickness - some looks were too feminine and chic and some appeared too rough, but we finally came up with a finished product that suited Dominic perfectly.
It resembled an adult style boot that was elegant, versatile and unisex - this is when the Petit Vagabond was born. This name seemed very fitting for how the boot came about. Dominic tested the boot for several months before we commenced a production order. Every time he wore the boots, several parents would comment on them and ask where they were from; it was this feedback that proved to me we had created a beautiful, desirable product, and I couldn't wait to share them with the world.