Home
/
News
/
Elevate Every Step: The Enchanting Charm of The Petit Vagabond Boots with a Delicate Ballerina Lace
November 12, 2023
Elevate Every Step: The Enchanting Charm of The Petit Vagabond Boots with a Delicate Ballerina Lace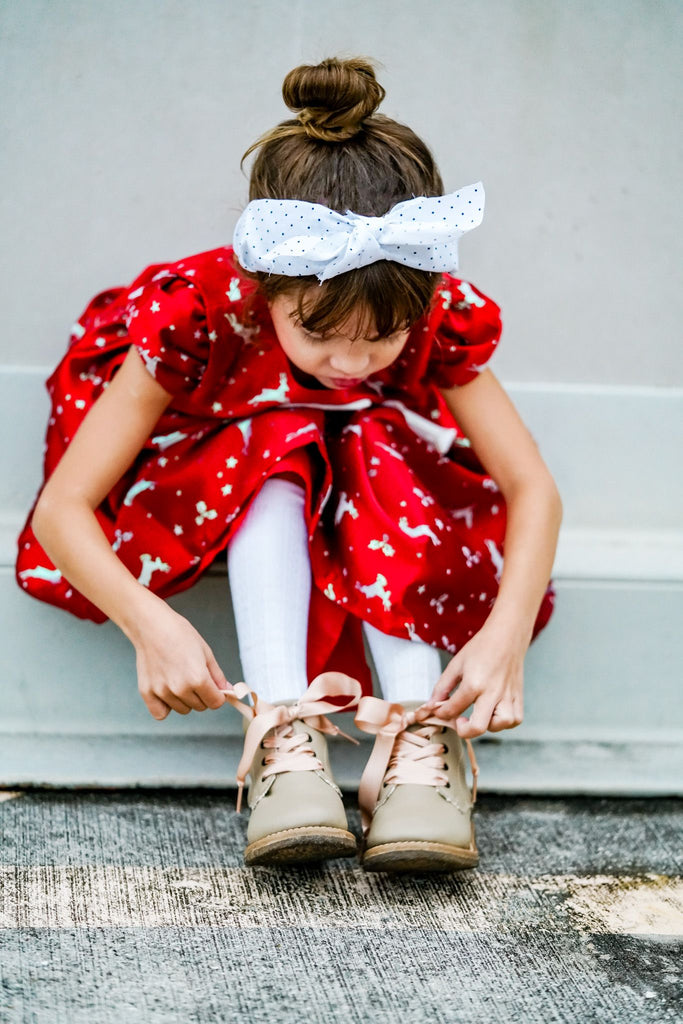 In the world of children's footwear, where whimsy meets practicality, our Petit Vagabond boots have taken a delightful turn with the introduction of The Ballerina Lace. These enchanting boots are not just a stylish accessory for little fashionistas; they're a statement of grace, comfort, and a touch of ballet-inspired elegance. Let's dive into the captivating world of the Petit Vagabond boots, where each step is a dance and every adventure is adorned with sophistication.
1. The Ballerina Silk Touch Crafted from vegan silk, what sets these lace-up boots apart is the ballerina lace that weave through the eyelets, adding a touch of refined elegance. Inspired by the delicate beauty of ballet shoes, these laces elevate the boots to a new level of charm, creating a fusion of rugged style and graceful sophistication.
2. Versatility Redefined The Petit Vagabond boots with ballerina laces are a testament to versatility. Whether paired with leggings, skirts, or jeans, these boots seamlessly transition from casual outings to more formal occasions. The ballerina lace adds a playful twist, making them suitable for a range of ensembles.
3. Dance Through the Seasons Designed for year-round wear, these lace-up boots with a ballerina lace are not bound by seasons. During the fall months, pair them with breezy dresses, and as the temperature drops, let them add a cozy touch to leggings or jeans. The ballerina laces add a touch of warmth, making these boots the perfect companions for every season.
4. Comfort Meets Style Beyond their visual appeal, comfort is at the forefront of the Petit Vagabond boots. Crafted with care and attention to detail, these boots offer a secure fit, ankle support, and a cushioned insole to ensure your little one's comfort during all their adventures. The ballerina lace, while delicate in appearance, are sturdy and easy to tie, ensuring a snug fit.
5. Personalize Your Style The ballerina laces provide an opportunity for personalization. Experiment with different lacing styles to create unique looks. Whether it's a classic bow, a playful crisscross, or a stylish wraparound, the ballerina laces offer a canvas for expressing individual style.
6. Dress Up or Down From special occasions to everyday wear, these lace-up boots are versatile enough to dress up or down. Add a touch of sparkle to a party dress or a hint of sophistication to casual playdates. The ballerina laces seamlessly adapt to the occasion, allowing your child to express their style effortlessly.
The Petit Vagabond lace-up boots with ballerina laces are a celebration of childhood style and grace. Each pair tells a story of adventure, dance, and the joy of self-expression. So, let your little one step into a world where every adventure is a dance, and every dance is adorned with the timeless elegance of ballerina laces.